Get ready for the
5th Annual
CELESTIAL CINEMA 2016
We're teaming up with METHOW ARTS for the 5th annual Celestial Cinema, July 29th and 30th, 2016. Watch movie trailers for Zootopia and Star Wars!
~~~~~~~~~~~~~~~~~~~~~~~~~~~~~~~~~~~~~~~~~~~~~~~~~~~~~~~~~~~~~~~~
4th Annual Celestial Cinema
August 13th, 14th and 15th 2015
Get ready for another great line up of films, food and fun under a new moon at the height of the Perseid Meteor shower.  Get ready for great movies ON the big screen UNDERNEATH one of the brightest meteor showers of the year!
as always FOOD begins at 6:30, KIDS ACTIVITY at 7:30, MOVIE at 8:30pm
$10 per ADULT  /  $5 KIDS under 10

Take a peek at each trailer:
See you at the MOVIES!
~~~~~~~~~~~~~~~~~~~~~~~~~~~~~~~~~~~~~~~~~~~~~~~~~~~
August 21st, 22nd and 23rd 2014
Thursday, Friday and Saturday nights
Come join us for Celestial Cinema's 3rd annual outdoor film series
This August, Celestial Cinema will support The Little Star School, The Merc Playhouse and The Cove through generous contributions from The Lost River Winery, The Old Schoolhouse Brewery, Methow Valley Brewing Company and Spring Creek Ranch.
Food service starts at 6:30pm with scrumptious offerings from:  The Rocking Horse Bakery, Northcott BBQ, The Arrowleaf Bistro, Lariat Coffee Roasters with popcorn, candy- of course!  Visit our Facebook Page to view movie trailers and follow us on Instagram.
Check out Celestial Cinema in print:
Caramelize Life,  Best Place to Live in the Wild West
Methow Grist, Stars Under The Starts
Methow Valley News, Family Films under the Stars
~2013~
Savor the picture below from our August 9th, 2013 showing of "UP" and relish in the success of our Celestial Cinema Kickstarter Campaign!
Spring Creek Ranch is proud to host the 2nd annual Celestial Cinema, Fridays August 9th and 16th.  Once again, bring your blankets, chairs, appetites and get ready for some great community gathering, stellar star gazing and fantastic outdoor film viewing!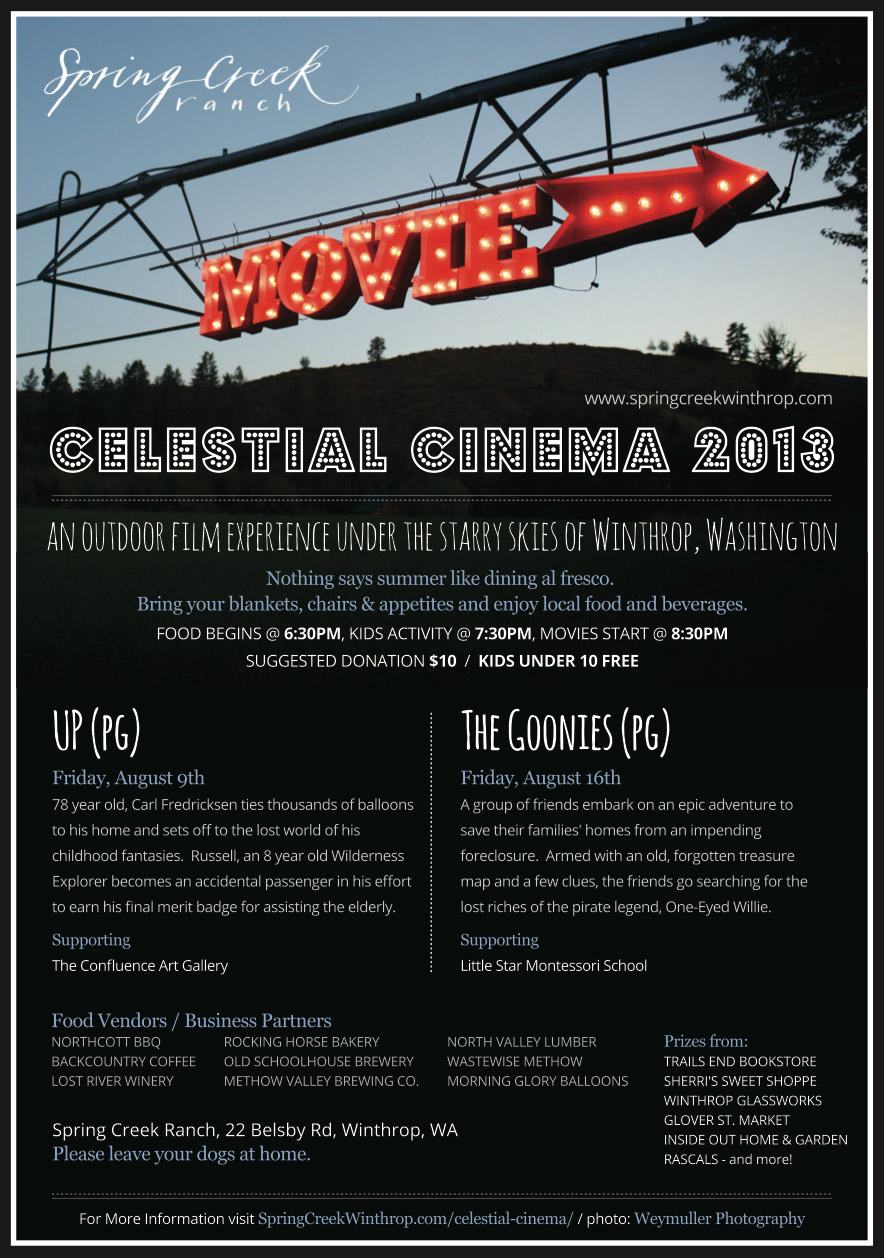 Thank you to all our 2013 partners!  Lost River Winery, Methow Valley Brewing Co,. Old Schoolhouse Brewery, Backcountry Coffee Roasters, Rocking Horse Bakery, WasteWise Methow, Morning Glory Balloons, North Valley Lumber, The Confluence Gallery and Little Star Montessori School
Join us for BBQ, salads, bakery treats, coffee, wine, beer and of course there'll be popcorn and candy too!
~2012~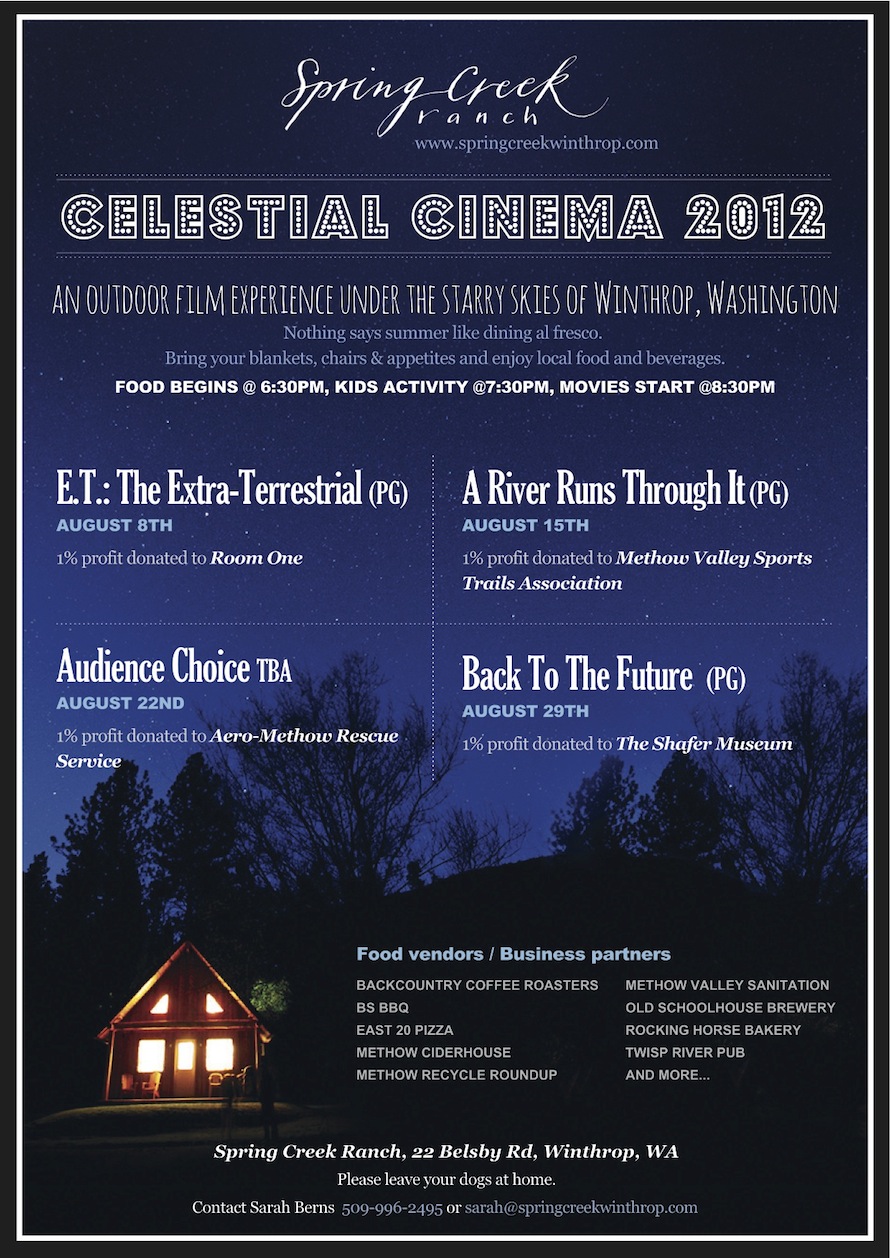 As Seen On:
Caramelize Life,  Best Place to Live in the Wild West
Methow Grist, Stars Under The Starts
*Spring Creek Ranch opens to the public at 6:30 pm.
*Ample parking available at Spring Creek Ranch or walk over the Spring Creek Bridge!
*Films will be projected on a huge 26 foot inflatable screen!  State of the art sound!
*Suggested donation is $10 per adult, kids under 12 are FREE
Thank you so much to our enthusiastic partners: Backcountry Coffee Roasters, BS BBQ, East 20 Pizza, Methow Valley Ciderhouse, Methow Recycle Roundup, Methow Valley Sanitation, Old Schoolhouse Brewery and Twisp RIver Pub for helping us SUPPORT Room One, Aero Methow Rescue, MVSTA and The Shafer Museum.
Scenes from Celestial Cinema 2012, courtesy of EA Weymuller